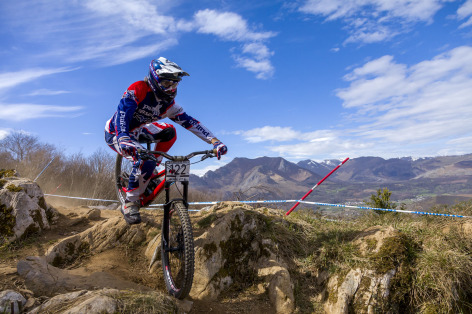 Du 21/04/2023 au 23/04/2023
Sport and leisure - Sporting competition
On the map
Test event downhill 2023
59 avenue Francis Lagardère
65100 LOURDES
Description
Lourdes, the place to be ! Le rendez-vous des champions, tous dans les starting-blocks pour attaquer, au Pic du Jer, la dernière ligne droite avant la Coupe du Monde du monde de VTT ! Du 21 au 23 avril, Lourdes va accueillir le Test Event, la session d'entraînement des équipes participantes à la Coupe du monde de descente 2023.

Discovery Sports Events vient de confirmer le circuit de Lourdes pour organiser les essais préparatifs à la Coupe du monde 2023.

Spot incontournable de la descente VTT depuis 30 ans, le Pic du Jer sera le site sur lequel se presseront les équipes en lice pour les titres 2023. Son circuit d'exception à la fois naturel et spectaculaire permet aux meilleurs vététistes internationaux de se mesurer pour s'imposer sur le circuit de la Coupe du monde de descente.

« L'élite des riders VTT a une relation forte avec la destination Lourdes. Notre spot est mythique ! Lourdes est une course référence qui a marqué l'histoire de la Coupe du monde de VTT descente. Avec ce choix, Discovery Sports Events labellise Lourdes comme ''centre d'entraînement vélo''. Avec le concours de la Communauté d'Agglomération Tarbes- Lourdes-Pyrénées, la collaboration et l'expertise de Lourdes VTT, nous allons organiser ces 3 jours d'entraînement, avec un objectif en tête : faire plaisir au public qui pourra venir voir les plus grands s'entraîner ! Nous sommes honorés et fiers de les accueillir chez nous, sur leur terrain. Car il ne faut pas oublier que ce sont les champions qui ont modelé leur descente sur cette piste exceptionnelle du Pic du Jer. Ces 3 jours vont constituer une extraordinaire avant-première de la saison de Coupe du monde de VTT et que la Formule 1 du vélo fasse une nouvelle fois étape à Lourdes est une excellente nouvelle qui confirme l'attractivité et la complémentarité de nos sites pour les sports outdoor dans les Hautes-Pyrénées » se réjouit le Maire, Thierry Lavit.

TEST EVENT DOWNHILL : session d'entraînement descente VTT Discovery Sports Event. Lourdes 21-22-23 avril 2023.