Snowshoe walks at the Grand Sites
Gavarnie - Pont d'Espagne - Pic du Midi - Néouvielle
Discover the Grand Sites of the Hautes Pyrenees on snowshoes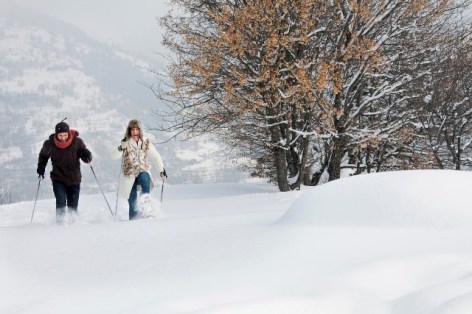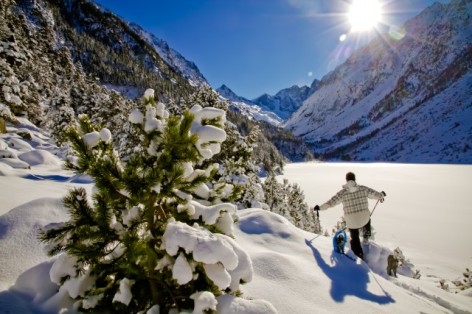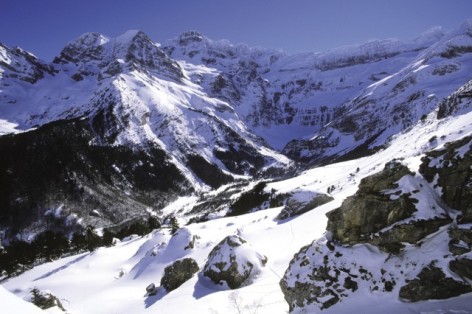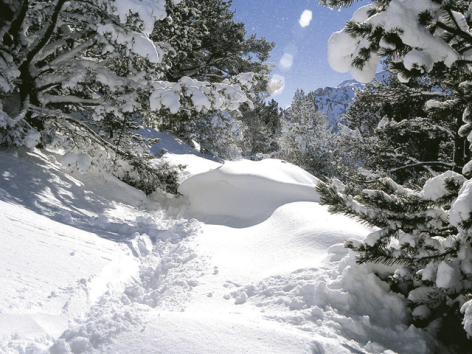 Travel first class this winter! Discover the unique and grandiose sites of the Hautes Pyrenees: Gavarnie, Pic du Midi, National Park, Lac de Gaube. These are all famous sites which receive visitors from all over the world. Between your walks you can enjoy the superb comfort of your charming hotel with its fine restaurant, the log fire in the lounge, the very comfortable bedrooms, you will find it difficult to leave!
On the map
From 965 € /person Based on 2 persons
7 days/6 nights in a 4 star hotel classified as a Hotel of Charm and Character, full-board
5 day's snowshoe walks with a qualified guide (material provided) - No carrying - Easy level
The strengths
Easy snowshoe walks at magnificent sites accompanied by a mountain guide
Trip around "Esprit Parc National"
An intimate and refined hotel
One of the best restaurants in the valley
Day 1
Discover the charming and peaceful village that will serve as your base camp during your stay. Hotel check-in, premium dining. An exquisite dining experience that sets the tone for the food you will enjoy during your stay.
Transfer time: 40 minutes.
Day 2
Walking trip along the Plateau de Saugué, from which the Cirque de Gavarnie can be seen. Stroll along close to secluded barns and the luscious meadows that surround them in high season that have been covered with a mantle of snow. A superb terrain carved out at the foot of the Cirque de Gavarnie. Higher up, the barns disappear leaving a series of valleys where heavy snowfall is prevalent, and ideal for snow-shoeing.
Walk duration: 3 to 4 hours;
Incline: +500m/-500m.
Transfer time: 25 minutes.
Day 3
Leaving from Pont d'Espagne, and climbing a path lined with pines and firs, the bracing cold freezes the banks of the stream making enchanting sculptures of ice crystals. At higher altitude, the pines become more sparse, the Vignemale sits on the horizon and you can see the frozen expanses of the famous Lac de Gaube.
Walk duration: 3 hours.
Incline: +300m/-300m.
Transfer time: 40 minutes.
Day 4
Walking trip climbing up from Barèges along the the enchanting Aygues-Cluse valley with its pine coppices - gateway of the vast Néouvielle mountains. Near to the mountain refuge, the valley opens out onto beautiful granite peaks.
Walk duration: 4 hours.
Incline: +650m/-650m.
Transfer time: 20 minutes.
Day 5
Cirque de Gavarnie with its 3000 metre summits. See the immensity and magic of frozen waterfalls. Passing opposite the cavern of the Cirque along the peaceful La Prade plateau. A peaceful walk making the most of the countryside.
Walk duration: 2 to 3 hours.
Incline: +300m/-300m.
Transfer time: 30 minutes.
Day 6
Trip to Hautacam with its 360° views of the plain and of the observatory at Pic du Midi de Bigorre situated at an altitude of 2877 metres. The pathway passes through huge peaks that lead to Pic de Barran and Pic du Mont. Climb back down facing north through enchanting valleys. Special dinner for the last day of your trip.
Walk duration: 4 hours.
Incline: +600m/-600m.
Transfer time: 30 minutes.
Day 7
Breakfast followed by check-out and transfer.
Transfer time: 40 minutes.
Complementary information
Level : 4 - 5 hours snowshoe walking each day.
200 to 650 meters of height gain without any technical difficulties. Easy level.
No carrying except personal affairs needed during the day and a picnic.
Meeting point : The first day at 5.30 pm at Lourdes station
Dispersal : The last day at 9.30 am at Lourdes station
A charming hotel
You will adore this charming small hotel in the Luz Saint Sauveur valley, with its stone façade, slate roof and flower-filled balconies.
The welcome is warm, the bedrooms are so comfortable, perfect after a day on the ski slopes, the cosy lounge with its crackling open fire is just perfect for a siesta.
In summer you can enjoy the outdoor pool. The restaurant has a fine reputation, the aim of Didier the chef is to prepare a host of delicious dishes using local produce, gourmet meals best shared between friends! The 'Charm and Character' hotels are full of character and in lovely natural settings. You will be welcomed as a friend, the décor is stylish, traditional materials are used, the furnishings are refined, colours are chosen to be in harmony with its region.
Your hotel: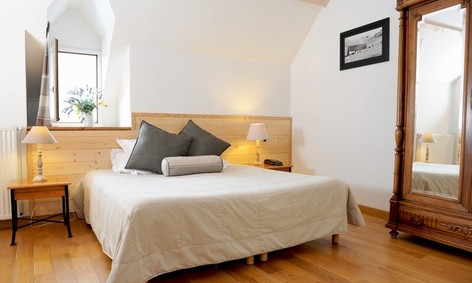 Is composed of two distinct buildings and has 15 bedrooms, a restaurant, bar with open fire, and a heated outdoor pool in summer.
From 965 € /person -
Based on 2 persons
The price includes
6 nights in a 4 star hotel classified as a Hotel of Charm and Character, full-board - 5 day's snowshoe walks with a qualified guide (material provided) - Local taxes - Booking fee.
The price does not include
Insurances - Drinks.
Enjoy your hotel :
Didier provides a very warm welcome, he will share his passion both for this valley and the fine food he serves in the restaurant.
Easy snowshoe walking
You are accompanied by a guide who specialises in snowshoe walking, walking light as there is no carrying involved except for a few personal affairs.
Trip around "Esprit Parc National":
This round walk was given the name "Esprit Parc National" in 2017. It signifies its synergy with the character and values of the National Parks. In particular it assures the presence of natural, cultural and countryside heritage, and a respect for the fundamental principals of conservation.