Residence at the foot of the ski runs of Peyragudes: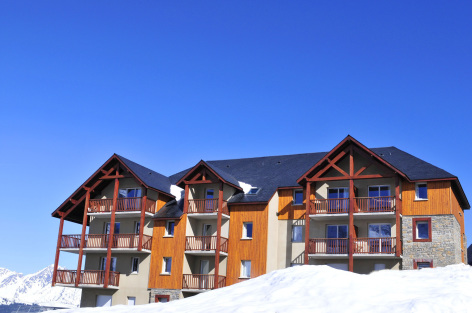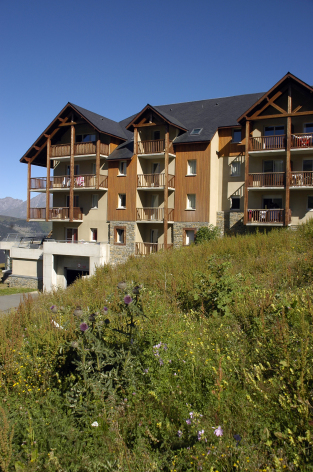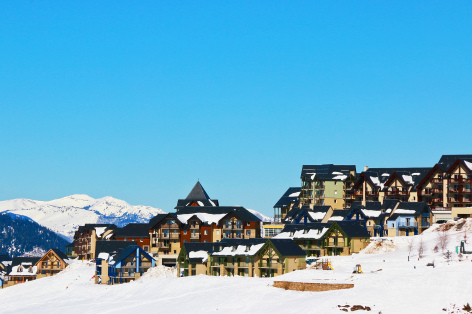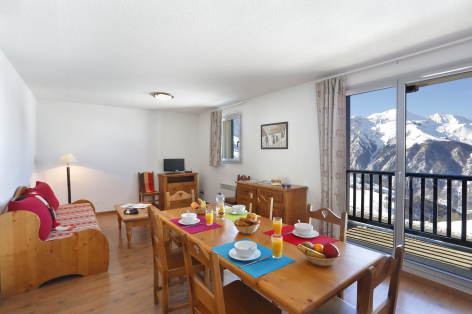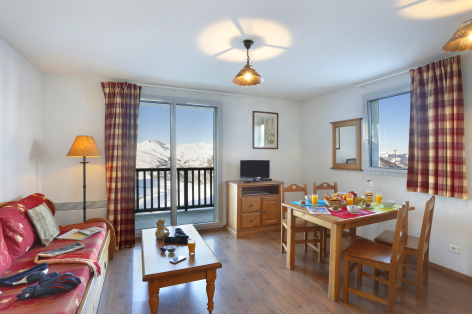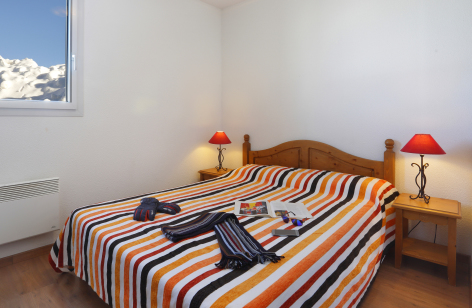 Description
Residence at the foot of the ski runs of Peyragudes:
At the foot of the ski runs of Peyragudes, on the Col de Peyresourde road, this residence offers every comfort and equipment so you can spend an enjoyable holiday. It overlooks the whole Louron valley with a magnificent view over the lake and the local summits. The colours and the light changes with each hour from the wonderful natural spectacle of the mountains. In winter the location next to the ski runs will thrill ski enthusiasts. The heated indoor pool offers a welcome moment of relaxation after a day on the ski slopes. In summer the many paths and trails offer many possibilities for lovely strolls. The Route of the Cols offers an invitation for exploration.
Your residence:
The apartments sleep from 2 to 10 persons, over 3 buildings each of 4 floors with lifts, and 6 individual chalets constructed in a Pyrenean style. You can enjoy all the facilities: indoor heated pool, sauna and wave bath. For winter there are ski lockers.
The residence also has: telephone messaging service, wi-fi in reception, loan of games and magazines, baby chairs, baby baths, extra matresses, ironing board and irons, fondue and raclette sets. There is a shuttle bus to take you to the ski runs (500 meters).
Studio sleeps 2: (25m²)
Kitchen area (microwave - ceramic hob – electric coffee maker - fridge - dishwasher)
Lounge area with fold down sofa bed for 2
Bathroom or shower room/toilet
Balcony
Lockers for skis

Animals are accepted (with supplement)
Studio/Cabin sleeps 4: (29m²)
Kitchen area (microwave - ceramic hob – electric coffee maker - fridge - dishwasher)
Lounge area with fold down sofa bed for 2
Alcove with bunks
Bathroom or shower room/toilet
Balcony
Lockers for skis

Animals are accepted (with supplement)
1 bedroom apartment sleeps 4: (32m²)
Kitchen area (microwave - ceramic hob – electric coffee maker - fridge - dishwasher)
Lounge area with fold down sofa bed for 2
Double bedroom
Bathroom or shower room/toilet
Balcony
Lockers for skis

Animals are accepted (with supplement)
1 bedroom apartment alcove sleeps 6: (36m²)
Kitchen area (microwave - ceramic hob – electric coffee maker - fridge - dishwasher)
Lounge area with fold down sofa bed for 2
Alcove with bunks
Bedroom with double bed
Bathroom or shower room/toilet
Balcony
Lockers for skis

Animals are accepted (with supplement)
2 bedroom apartment sleeps 6: (45m²)
Kitchen area (microwave - ceramic hob – electric coffee maker - fridge - dishwasher)
Lounge area with fold down sofa bed for 2
Bedroom with double bed
Bedroom with 2 single beds
Bathroom or shower room
Separate toilet
Balcony
Lockers for skis

Animals are accepted (with supplement)
2 bedroom apartment sleeps 8: (55m²)
Kitchen area (microwave - ceramic hob – electric coffee maker - fridge - dishwasher)
Lounge area with fold down sofa bed for 2
Bedroom with double bed
Bedroom with single beds
Alcove with bunk beds
Bathroom
Separate toilet
Balcony
Lockers for skis

Animals are accepted (with supplement)
3 bedroom apartment sleeps 8: (60m²)
Kitchen area (microwave - ceramic hob – electric coffee maker - fridge - dishwasher)
Lounge area with fold down sofa bed for 2
Bedroom with double bed
Bedroom with 2 single beds
Bedroom with bunk beds
Bathroom
Separate toilet
Balcony
Lockers for skis

Animals are accepted (with supplement)
3 bedroom apartment sleeps 10: (65m²)
Kitchen area (microwave - ceramic hob – electric coffee maker - fridge - dishwasher)
Lounge area with fold down sofa bed for 2
Bedroom with double bed
Bedroom with 2 single beds
Bedroom with bunk beds
Alcove with bunk beds
Bathroom
Shower room
2 toilets
Balcony
Lockers for skis

Animals are accepted (with supplement)
4 bedroom apartment sleeps 10: (67m²)
Kitchen area (microwave - ceramic hob – electric coffee maker - fridge - dishwasher)
Lounge area with fold down sofa bed for 2
2 bedrooms with double beds
2 bedrooms with 2 single beds
Bathroom
Shower room
2 toilets
Balcony
Lockers for skis

Animals are accepted (with supplement)
Book your holiday accommodation
Online
Environment
Summer
Winter
Grand sites
Cauterets - Pont d'Espagne
Gavarnie
Lourdes
Neouvielle nature reserve
Pic du Midi / Toumalet Pass
Route des cols
The Pyrenees National Park
Activities
Summer
Nautical activities
Balneotherapy
Cinema
Cycling
Heritage Discovery
Horse-riding
Climbing
Mini-golf
Paragliding
Leisure parks
Swimming pool
Fishing
Hiking
Sports of running waters
Mountain bike
Winter
Balneotherapy
Cinema
Snowshoe walking
Ski
Dog sled
Equipments and services
Bathtub
Highchair
Shower
Iron
Dishwasher
Baby cot
Microwave
Induction cooker / ceramic glass cooktop
Televisión
Wifi
Sauna
Jacuzzi
Patio balcony
Local Ski
Swimming pool
Raclette
Linen hire
Cleaning / housework
Tourism for people with disabilties
Motor handicap
Mental handicap
Visual handicap
Hearing handicap
Accessible for people with disabilties but not classified
Motor handicap
Mental handicap
Visual handicap
Hearing handicap