"ENDURO D'AURE" - 5ème édition "Résurgence"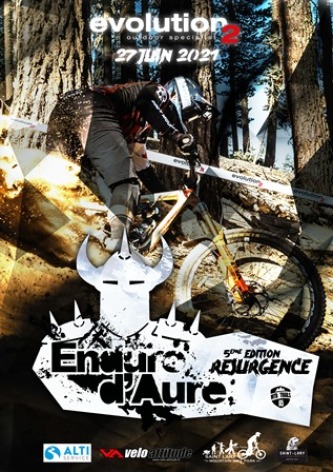 Le 27/06/2021
Sport and leisure - Sporting competition
On the map
"ENDURO D'AURE" - 5ème édition "Résurgence"

65170 SAINT-LARY-SOULAN
05 62 39 44 61
Description
Notre vie de rideur est jalonnée par les objectifs sportifs, challenges.
Nous sommes en manque de liberté, d'évasion de voyages…
Le 27 juin nous vous proposerons un retour de la course (dernière édition 2015) avec un
très gros programme.
Pour certains cela sera plus qu'une course.
Le défi "Enduro d'Aure" dépassera le simple classement sur une feuille de papier.
Après un départ en altitude tôt le matin, il faudra finir le parcours.
1 MODE RACE
- 4000 mètres de dénivelé négatif en descente. - 1400 mètres de dénivelé positif en montée à la
pédale. - 2000 mètres de dénivelé en remontées mécaniques. - 1 navette voiture. - Bike park de
Saint Lary. - Site VTT enduro "MTB TRAILS 65"
1 MODE FINISHER
Votre challenge : Finir le même parcours que le mode race sans chronomètre ni classement. Il
faut finir dans les délais et revenir avec de gros souvenirs de ride et le tee shirt "Finisher".
KID ENDURO D'AURE
2 spéciales sur le bike park de Saint Lary pour les benjamins et minimes !