Ski and spa at Peyragudes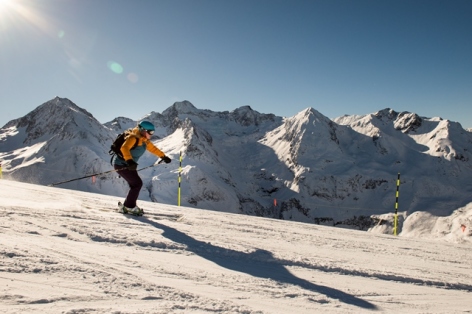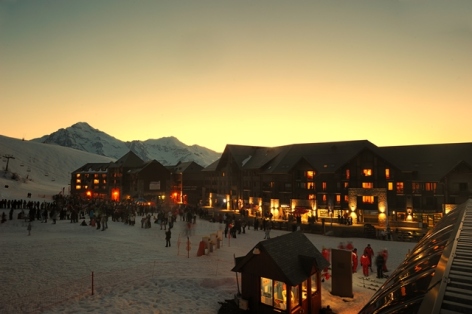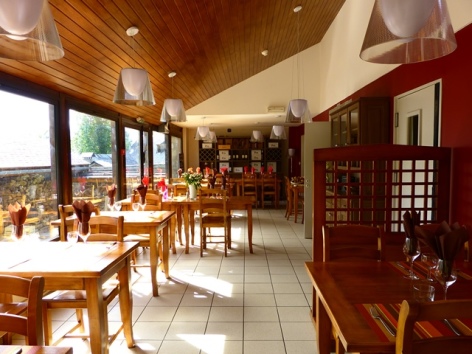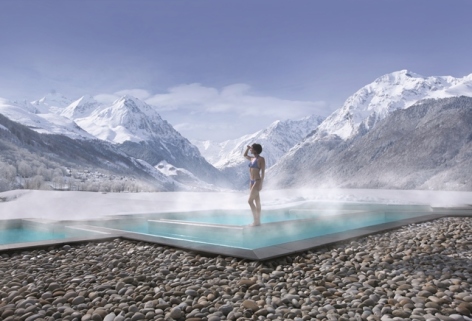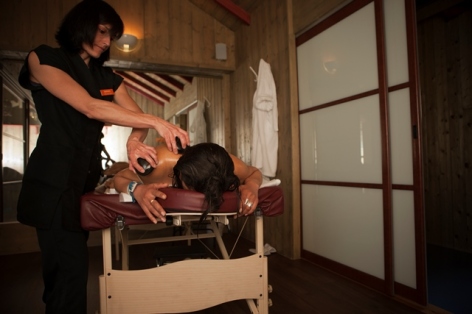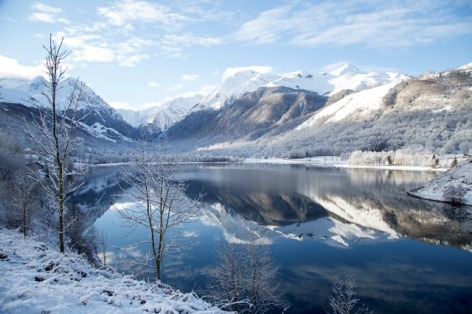 Waken the senses and enjoy every moment together. Race down the Peyragudes slopes under beaming sun. The day's skiing is broken up with a welcome coffee enjoyed on the terrace and a deck chair picnic. It ends beautifully in the sensuous natural hot spring lagoons of Balnéa. Enjoy a romantic get-away with the one you love surrounded by snow-caped mountains.
On the map
From 356 € /person Based on 2 persons
2 days/2 nights in mountain auberge, half board
2 day ski pass for Peyragudes
2 day ski hire
1 treatment and 1 pass (2 hours) for Balnea Spa with outdoor pools, lagoons, hammam, jacuzzi, musical bath, wave baths...
The strengths
Balnea Spa, first spa centre in the High Pyrenees
4 relaxation areas with indoor and outdoor lagoons
Ski on the sunny pistes of Peyragudes
A convivial auberge
Enjoy the delights of ski and spa in the Hautes-Pyrénées region.
Day 1
Installation at the end of the aftermoon in your auberge. Dinner and night.
Day 2
Breakfast. Once you have collected your ski equipment, it's a day on the slopes of the Peyragudes resort. The apres-ski starts in the naturally heated waters of the Balnea Spa. Dinner and night in your auberge.
Day 3
Breakfast. After another lovely day's skiing return your equipment to the hire shop. End of stay.
Spa programme
Benefit from a choice of treatments:

• Le Gange "Shirodara" process (45 minutes): a continuous trickle of sesame oil is poured onto the forehead, at the hairline. The face is rested and wrinkles reduced during this revered process. Perfect for the relief of stress.
• Tahitian treatment for women (50 minutes): This scented and sensory journey inspired by Polynesian islands leaves skin radiant and profoundly relaxed. This Archipelago process comprises: exfoliating masque of rose crystals and argan shells followed by Shea butter and vanilla regenerating treatment, Shea butter and argan oil body sculpting massage
• "Le Caillaouas" sculpting massage - hot stone massage (50 minutes): This traditional practice uses hot basalt stones warmed in a bath of hot water until their temperature remains constant. Massage with the stones results in physical relaxation and detoxification effects. The recipient of the treatment can lose themselves in a multitude of contrasting sensations, sometimes stimulating and sometimes relaxing.
• "Le Tibetain" massage - Kansu bowl massage (50 minutes): Inspired by the Abhyanga traditional Indian massage method, this relaxing and comforting body massage with hot sesame oil is followed by a Kansu bowl foot massage with ghee, a well-known Ayurvedan remedy. This treatment embodies a unique experience with fluid motion and sliding pressure which dissipates tension and improves the circulation of vital energy (Prana) within the body.
• Mediterranean slimming treatment (60 minutes): Complete treatment. Mediterranean exfoliating salt scrub prepares the skin and rids it of impurities after which a slimming balm of 6 different vegetable extracts aids the skin to eliminate toxins. To finish, a stimulating and mentholated massage with essential oils tones skin tissue with soothing orange.
• Maori treatment for men (60 minutes): Men walk on sacred land in New Zealand. This treatment consists of natural remedies and benefits for the body promoting vigour. This ancient treatment comprises: exfoliating scrub of lava powder and lemon to purify, a mask of peppermint lava syrup to fortify, and full body massage with coconut butter and clementine.
• Cosmopolitan perfection facial (70 minutes): A combination of products carefully sourced... combining beauty with relaxation. This treatment comprises: skin cleansing: purification of the epidermis and eradication of imperfections, relaxing facial massage, facial masque, facial treatment to restore a radiant complexion. This treatment is formulated to boost the health of the skin. Skin is rejuvenated of its natural beauty with long-lasting effects!
• "Le hourgade" massage (50 minutes): Aids relaxation of the legs and back. With alternating use of fingertips and fists to relieve tension, followed by sleek motions and sliding pressure aided by the use of oils the elimination of toxins is also accelerated. Arnica oil applied through massage relieves and relaxes strained muscles.
• Plantar reflexology and Chinese facial (60 minutes): This 5000 year old Chinese massage technique (with Chinese balm) uses gentle thumb pressure applied to reflex points to harmonise the body's VITAL ENERGY. "Tao Wei" Experience.
Charming mountain auberge
Located close to the Peyragudes ski resort and the GR10 in the Louron valley, this charming auberge offers the warm welcome one only finds in the south west. The view from the balcony is splendid, the shimmering lake, the tiny mountain villages and their houses with slate roofs, the snow capped peaks all around. The setting is peaceful, the rooms simple yet cosy, each with a view over the mountains or the stream. In summer after a day in the mountains everybody gathers on the terrace for a drink. In winter after a day on the ski slopes at Val Louron or Peyragudes the log fire is very welcoming, and Christophe will tell a few tales of the valley. He will also delight you with his cuisine, he is passionate about his cooking and you can enjoy his Garbure, tartiflette, not to mention his grilled prawns, veal 'Oxoa' and his famous home made Gateau Basque. Even the most demanding of gourmets will be satisfied.
Your auberge:
Has 11 bedrooms and can take 33 persons, a restaurant with terrace, lounge with log fire.
Your double room:
1 double bed
Bathroom with shower
Toilet
Television
Animals are welcome
Highlight:
General Chef and procurer of produce, Christophe, who puts his heart and soul into the dishes he creates.
Peyragudes, your ski resort
Beautiful bends, long long descents, natural half-pipes… open over two mountains, Peyragudes has a wonderful ski area in a magnificent setting. From its inception the Peyragudes resort has always innovated with a lively programme of activities and events, the pleasure of skiing with no limits!
Not to be missed: the brand-new 007 blue slope which runs from the top of the ski station enabling even amateur skiers to ski from heights.
Balnea, your spa centre
On the edge of the lake and facing the mountains, the Balnea Spa immerses you in a universe of raw beauty and rafinement.
The spa waters are naturally warm, the inspiration comes from afar, and the relaxation techniques are varied.
With the Roman area
Let yourself go in a world of pure wellbeing. A lagoon of thermal water, massage jets and swan neck jets, musical baths, jacuzzi baths, hamman, heated benches… the dome with its glass facades bathes the spa in a wonderful natural light and offers magnificent views over the surrounding countryside. From the pleasures of the warm spa waters to the joys of the panoramas, everything is here for a calming and sensual experience.
With American Indian area
This space is perfect for families. Geysers, swimming against the current, waterfalls, Jacuzzis, water beds… All beneath the watchful eye of the totem poles.
With the Onsen area
Treat yourself to a taste of Japan. 3 outside pools at between 33 and 40 degrees with splendid views over the mountains, a Japanese zen garden, a Japanese pavilion with a room of cryotherapy, 2 saunas with dramatic mountain views.
With the Tibetan area
Peace and calm, this space is dedicated to the face and body. Mountain treatments using Arnica, massages with warm sesame seed oil and Tibetan bowls, Thai foot massage and Taiko yoga, traditional Indian massage.
In the Inca area,
Families can enjoy outdoor pools where the waters are at 37C, in a sumptuous decor of bamboo, temples and statues which transports you to Latin America, all to the backing of Peruvian pipe music. Swimming against the current, jacuzzis, massage jets, and even a beach of stones to take a snow bath in winter... the pure pleasures of warm waters in a delightful and surprising setting.
With the restaurant
Wellbeing is also on your plate, the restaurant serves well balanced, healthy and natural food.
Not to be missed: the brand-new cryotherapy room with self-service ice cubes.
From 356 € /person -
Based on 2 persons
The price includes
2 nights in mountain auberge, half board - 2 day ski pass for Peyragudes - 2 day ski hire (eco pack) - 1 treatment and 1 pass (2 hours) for Balnea Spa with access to the relaxation areas with outdoor pools, lagoons, hamman, jacuzzi, musical baths, wave baths, bubble beds... - Local taxes - Booking fee.
The price does not include
Insurances.
Validity
Winter 2017/2018
A panoramic lunch
The Cabanou mountain restaurant with its huge sunny terrace is the perfect spot for lunch, make sure to stop there. Though it might be difficult to get going again, once comfortable installed in your sun lounger surrounded by the snowy summits!
All the world's spas
The Balnea Spa baths invite you on a world tour of spa baths : Roman, American Indian, Japanese, Inca or Tibetan... Let yourself drift into a perfect state of relaxation. We particularly recommend the outdoor pools at the end of the day, watch the stars through the rising warm vapours.