A week of Nordic ski activities in the Azun valley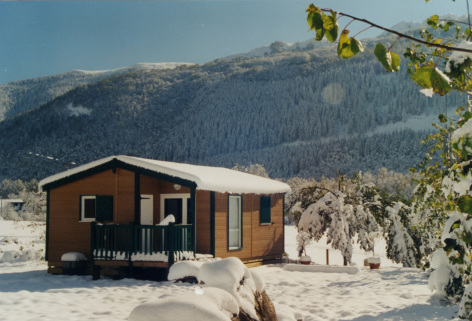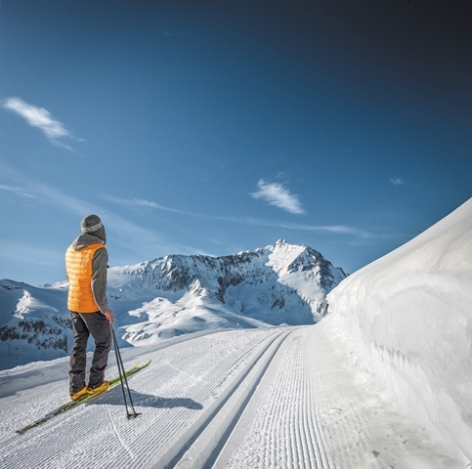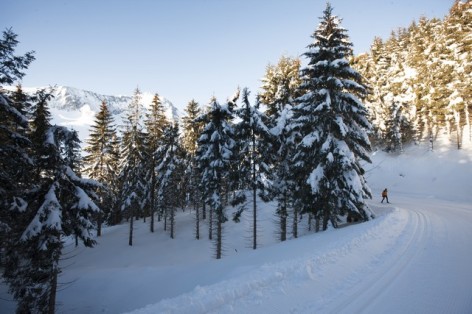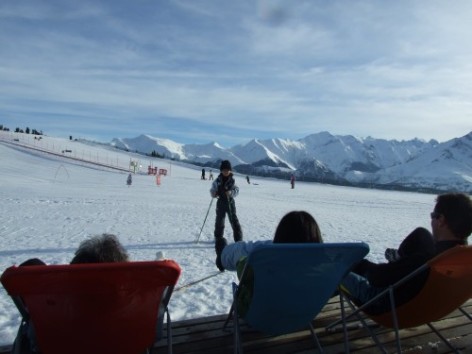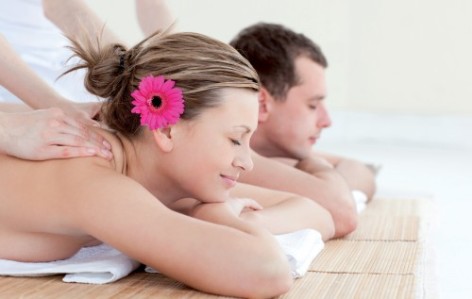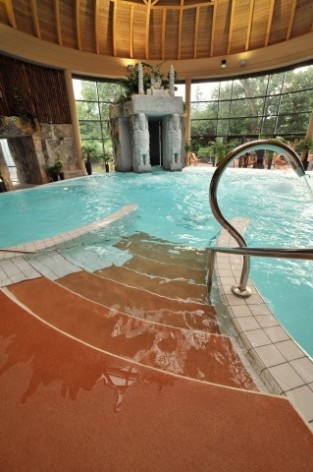 Sweet dreams beneath the warmth of your duvet in the cosy comfort of your chalet, outside a virgin snow awaits. And there you are on snowshoes in the middle of a pine forest, the pleasure is total. After your walk enter the soothing world of the Jardins des Bains spa, a revitalising jacuzzi maybe, then enjoy the gentle hands of an expert for a Karite butter massage, your relaxation is complete.
On the map
From 220 € /person Based on 2 persons
1 week in a chalet on a 3 star campsite
7 day ski pass for the Val d'Azun Nordic resort (snowshoe, cross-country skiing and toboggan, ski lift, solarium)
1 treatment and 1 entry (2 hours) for Le Jardin des Bains Spa centre
The strengths
Great value ski holiday
Panoramic snowshoe walks
Snowy forests
Relaxing massages warming spa waters
The cosy comfort of your chalet
7 day's of Nordic ski activities in the Azun valley, close to the Pyrenees National Park, in magnificent unspoiled mountain scenery. A voyage on the Spice Road with the 'wrap' treatment at the spa baths.
Spa programme
A voyage along the Spice Road (body wrap 30 mins) :

This treatment deeply nourishes dry skin and is also superb for your hair, giving them both a shine and vitality. The scent is Karite from the Islands.
Chalet on a campsite in the Azun valley
Here you are in the centre of a unique mountain environment with a magnificent view over the surrounding Pyrenean summits. Museums of the mountain way of life, Romanesque churches and ancient water mills are be found in this valley, sometimes called the 'valley of light'. The Azun valley actually has 10 villages, 3 valleys, 4 mountain passes, peaks, rivers, lakes, and miles of footpaths to explore. From the Balaitous to the Gabizos or towards the peaceful Lac d'Estaing, you can always find that special place where it is just lovely to sit down and soak it all in... more comfort, more space. more intimate and closer to nature...
Your chalet: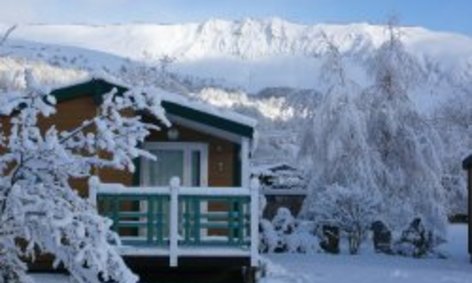 The chalets are perfectly integrated into the superb setting of a small 3 star campsite. The communal buildings are constructed in wood and stone, the chalets themselves are in imitation Canadian wood with covered terraces offering a magnificent panorama over the mountains.
Your chalet Duo+:
Chalet for two persons with one bedroom but it can take two more by using the sofa bed. The surface area of 30 m2 makes for a spacious living area. The main attraction of the Chalet Duo+ are the large bay windows which give access to a wooden terrace with a magnificent panorama over the mountains, a lovely space for relaxation and dining.
It comprises:
Living area with equipped kitchen
Bedroom with 140 cms double bed
Sofa bed in living area
Bathroom
Separate toilet
Picnic table
Barbeque
Parasol
Covered terrace
2 folding chaise longues
Activities and practical info
Animals are not accepted - gas cooker - freezer - microwave - TV - laundry with washing machine and dryer - table-tennis - badminton court - table football - meeting room - TV room - internet point - wi-fi hot spot - parking - small grocery store - bread deliveries in July and August - shops, doctor, chemist in Arrens Marsous 2 kms away
Val d'Azun, your cross-country ski area
On the edge of the Pyrenees National Park, the Azun valley is a veritable paradise for Nordic skiing, in gentle and bucolic mountain scenry. The resort offers many activities, with a friendly and warm atmosphere, all at the heart of an authentic and beautiful valley.
Les Jardins des Bains, your spa centre
The Jardins des Bains Spa offer a voyage through time and space. Cleverly designed so light and reflections pass from the exterior to the interior, the large glazed spaces are an invitation to explore the different ambiences - greenery, tropical, floral and mineral.
The Emerald Forest
A tropical greenhouse topped with a cupola of zinc and glass. Sunshine, exuberant forest vegetation, Inca sculptures evoking ruins lost in the virgin forest… And to relax you: bubbling water beds, Jacuzzi, massage jets, bubbling baths, counter currents, geysers, waterfalls, swan-neck massages…
The Ziggourat
Closed to the view of those outside this intimate space takes its inspiration from a Mesopotimanian building. Beneath the luxurious vegetation and under the high vaulted roof are scented baths wiith essential oils which change with the seasons, musical baths guarded by winged bulls, hammans, a frigidarium…
The walking course is shaded by tainted glass, three pools with different depths and temperatures, taking you along a circuit bordered by gardens to eventually reach an open-air jacuzzi.
From 220 € /person -
Based on 2 persons
The price includes
1 week in a chalet in a 3 star camping (capacity 2 persons) - 7 day pass for Val d'Azun Nordic resort (snowshoe, cross-country skiing, ski lift, solarium, toboggan) - 1 treatment (wrap 30 mins) and 1 entry (2 hours) for Le Jardin des Bains Spa centre - Booking fee.
The price does not include
Charges for electricity - Local taxes - Security deposit - Bed linen - End of stay cleaning (€50)- Cancellation insurance.
Validity
Winter 2018/2019
A lovely little price
A great week to take in the pure mountain air and enjoy the snow in a remarkably unspoiled and beautiful valley.
Try it for an hour, or a day...
The Val d'Azun offers everything from themed walks, sleigh dog experiences... to biathlon initiation. For this nothing could be more simple: obtain a laser rifle from the ski station, cross-country ski for a few kilometres, stop and aim with precision...