Lagrange Prestige residence next to Saint-Lary: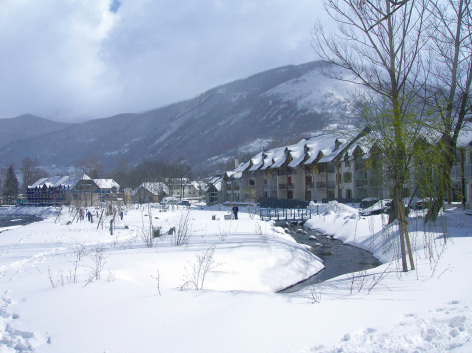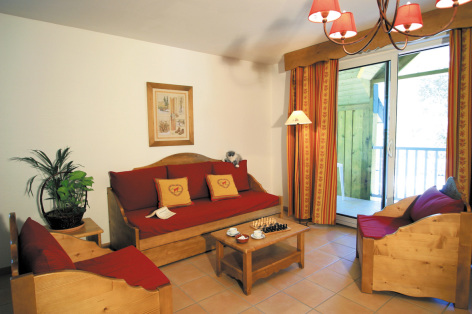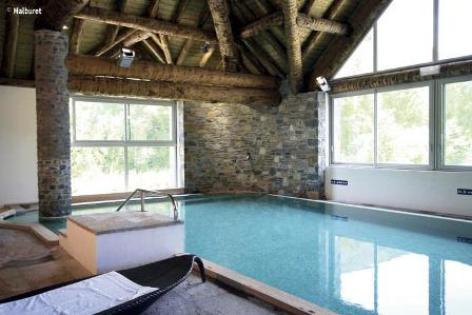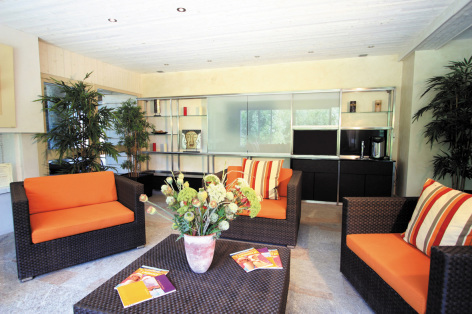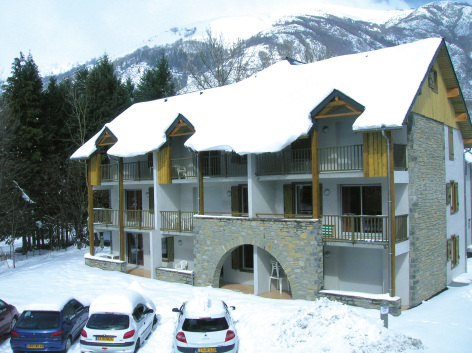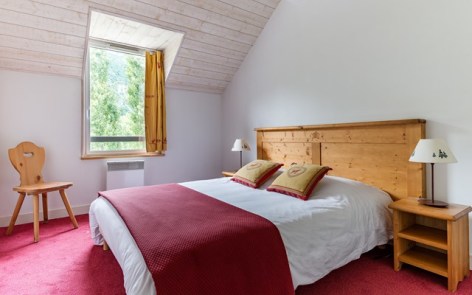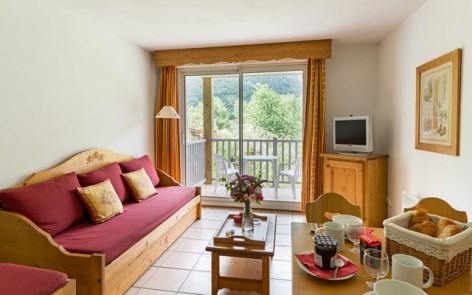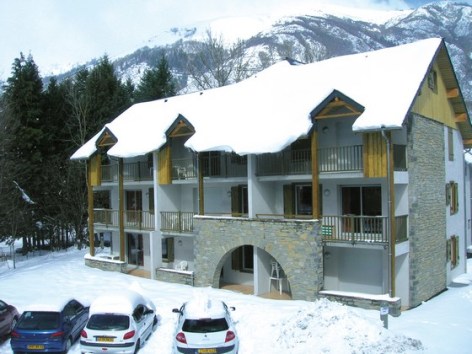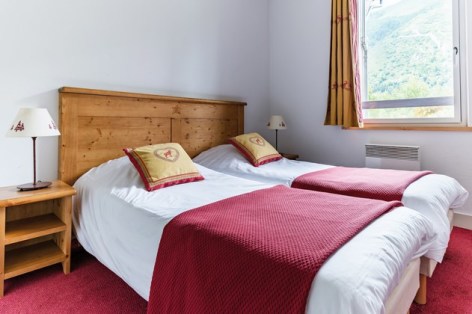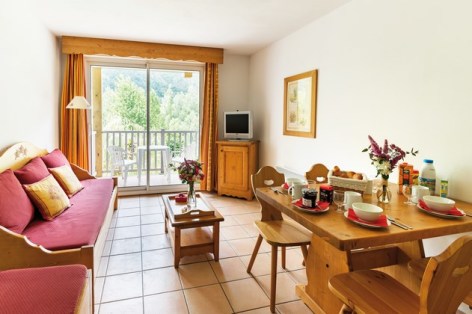 Networks and classifications
Résidences Lagrange
4 stars
Description
Lagrange Prestige residence next to Saint-Lary:
The Lagrange Prestige residence in Vielle Aure, next to St Lary, offers an exceptional standard of comfort. Situated 500 metres from the centre of St Lary, the spa and cable-car you can enjoy all the pleasures of mountain. The complex is of two small buildings of two floors, the architecture harmoniously blends wood, stone and slate, and slips easily into the local landscape.
At the end of a summer's day the shores of the lake offer a lovely cooling itinerary with great views over the surrounding summits.
You are invited to enjoy the wellbeing area under the spectacular wooden ceiling, unlimited access to the heated pool, the wave baths, or to enjoy one of the many treatments on offer, or a session in the sauna, hammam or spa… In winter a free bus connects with the cable-car to quickly access the ski runs.
Your residence:
Has children's club, entertainments, heated indoor pool with wave bath, wellbeing area with sauna, hammam, spa. Possibility of breakfast.
Studio sleeps 2: (28m²)
Living area with fold down sofa bed for 2
Kitchenette (oven, ceramic hob, dishwasher)
Bathroom/toilet
Terrace or balcony
1 bedroom apartment sleeps 4: (38m²)
Living-area with fold down sofa bed for 2
Twin bedroom
Kitchenette (oven, ceramic hob, dishwasher)
Bathroom with bath or shower
Separate toilet
Terrace or balcony
1 bedroom apartment sleeps 6: (48m²)
Living area with fold down sofa bed for 2
Twin bedroom
Alcove with bunks
Kitchenette (oven, ceramic hob, dishwasher)
Bathroom with bath or shower
Separate toilet
Terrace or balcony
2 bedroom apartment sleeps 6: (58m²)
Living area with fold down sofa bed for 2
Twin bedroom or bunks
Double bedroom
Kitchenette (oven, ceramic hob, dishwasher)
Bathroom, extra shower
Separate toilet
Terrace or balcony
2 or 3 bedroom apartment sleeps 6/8: (65m²)
Living area with fold down sofa bed for 2
3 bedrooms each sleeping 2 or 2 bedrooms each sleeping 2 + alcove with bunks
Kitchenette (oven, ceramic hob, dishwasher)
Bathroom, extra shower
Separate toilet
Terrace or balcony
3 or 4 bedroom apartment sleeps 8/10: (70/84m²)
Living area with fold down sofa bed for 2
4 bedrooms each sleeping 2
or
3 bedrooms each sleeping 2 + alcove with bunks
Kitchenette (oven, ceramic hob, dishwasher)
Bathroom/toilet
Extra shower
Separate toilet
Terrace or balcony
Book your holiday accommodation
Online
Environment
Summer
In a village
In the mountains
Near the thermal baths
Winter
In a village
Next to the ski runs
Near the thermal baths
Grand sites
Cauterets - Pont d'Espagne
Gavarnie
Lourdes
Neouvielle nature reserve
Pic du Midi / Toumalet Pass
Route des cols
The Pyrenees National Park
Activities
Summer
Nautical activities
Balneotherapy
Cinema
Cycling
Heritage Discovery
Discotheque
Horse-riding
Climbing
Mini-golf
Paragliding
Leisure parks
Swimming pool
Hiking
Sports of running waters
Spa tourism
Mountain bike
Winter
Balneotherapy
Cinema
Discotheque
Snowshoe walking
Ski
Spa tourism
Equipments and services
Bathtub
Shower
Oven
Toaster
Dishwasher
Induction cooker / ceramic glass cooktop
Televisión
Turkish baths
Sauna
Jacuzzi
Patio balcony
Courtyard or garden
Parking
Swimming pool
Patio set
Terrace
Lounge chair/recliner/sunbathing
Linen hire
Cleaning / housework
Meal