"J'irai jouer chez vous dimanche prochain"
The Grand Tourmalet - La Mongie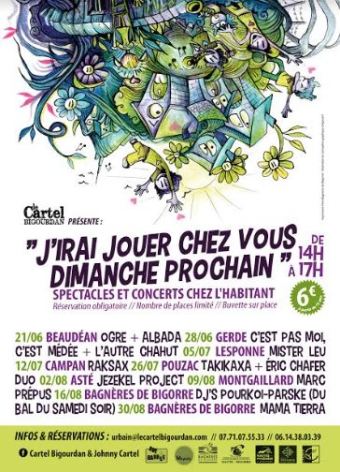 Le 09/08/2020
Associative or civic - Local animation - Concert
On the map
"J'irai jouer chez vous dimanche prochain"

65200 MONTGAILLARD
Schedule
- de 14:00 à 17:00
Description
Cet été, le Cartel Bigourdan vous invite chez l'habitant pour une série de spectacles et concerts les dimanches après-midi, de 14h à 17h.

Le 09 août : (en partenariat avec Rue Barrée) // MARC PREPUS (Show musical extravagant)

Grâce à la participation et au soutien des habitants, nous vous invitons chez eux, dans leur jardin, pour une série de concerts et spectacles.
- 9 dates du 21 juin au 30 août qui seront l'occasion de se retrouver ensemble et de soutenir les artistes dans cette période si particulière.

La jauge étant limitée, nous vous demandons de réserver vos places à l'avance par mail ou téléphone.

Tarif 6 € (à partir de 12 ans)
Attention, le nombre de places est limité - Réservation obligatoire
Buvette sur place.