Night in a yurt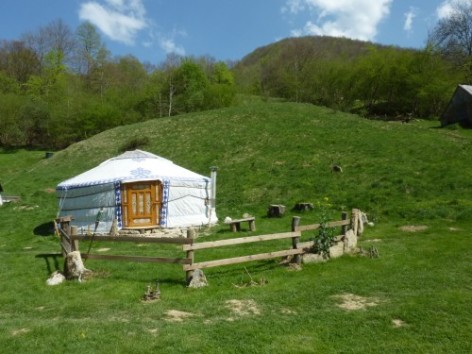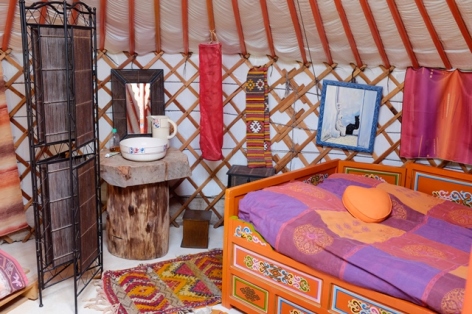 Caroline, Alain, their donkey, and their nanny goats will welcome you onto their plateau which is surrounded by forest, for an unforgettable night in their Mongol yurt. Thick fabric exterior, screens, carpets, quilts, warm natural colours, all is very cosy. As night falls try and count all the stars from your terrace, in the morning it is the sound of the deer that greets you... what an adventure to share!
On the map
From 188 € /family Based on 2 adults + 2 children
2 days/1 night in a Mongol yurt, half-board
The strengths
A tradition Mongol yurt, warm and comfortable
A completely natural ecological environment
A splendid setting, away from it all, surrounded by animals
You will love this little corner of paradise in the heart of the mountains. Perfect for walks, treks, discovery, activities. Experience the sublime harmony of life amongst the animals, such friendly contact. Let yourself be transported by the fairy tale setting.
Day 0
Day 1
Comfortable Mongol yurt
With Mongol origins, this habitation is adapted to the particular climatic conditions of the Steppes, it is practicable for both a summer or winter stay. Sitting around the fire or under the stars you will experience the serenity in the middle of this wild setting. The site is equipped with toilets, solar powered outdoor showers and a traditional yurt toilet area.
Note that the hosts, for ecological reasons, provide all toilet supplies, and will not accept any non natural products. Access by car to the yurts is by a 2 kms forest trail, the last section to be done on foot with a 200 meter climb. If needed the host will transport your bags in their 4 wheel drive vehicle (small fee).
Your 2-4 person yurt (27m2)
1 double bed, 2 single beds, toilet area, wood stove, table.
La Barousse
The Barousse is a verdant area whose dense forests are home to many deer, their strident calls can be heard in autumn, with tiny villages whose inhabitants live off the land and make excellent cheeses. It is also the ideally located to explore nearby St Bertrand de Comminges, the chasm at Saoule, the castles of Mauleon-Barousse and Bramevaque, the Maison des Sources, and the fabulous view from the Port de Bales.
You will adore
- The panorama from the Port de Bales
- The call of the stags in the autumn coming from the forests
- The gentle pastoral ambience of Barousse
- The wonderful Barousse cheeses
- The walk from the Maison des Sources to the Saoule chasm, passing close by the Bramevaque castle
From 188 € /family -
Based on 2 adults + 2 children
The price includes
1 night in a yurt, half-board - Ssheets and toiletries - Booking fee.
The price does not include
Lunches - Local taxes - Cancellation insurance.
Validity
All year
Your will love yours neighbours!
Stags, deer and fawns all live in the forest around the site.